ReadyBrick® range of Concrete Bricks
The new concrete facing bricks offer builders and house developers an alternative solution to clay bricks, with a shorter production lead time and quick turnaround to keep up with the growing demand from new housing developments.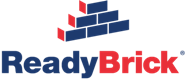 ReadyBrick® is the new face of concrete bricks, we are pleased to introduce our new facing brick range available in 6 colours. The bricks have been carefully engineered with perforations to allow for better and easier placement by the builder, saving valuable time.
Available as both facing or common variations, the concrete bricks can be used with confidence in a wide variety of internal and external applications. Our quality assured manufacturing process ensures that ReadyBrick® units are of a consistent and superior quality to meet the requirements of all European and British standards.
---
FACING BRICK
Cost advantage over clay bricks
Availability and lead time advantage over clay bricks
Perforated for better placement
Sustainable manufacturing process
---
Currently Available in six colour variations:
TANNOCHSIDE BUFF
LOTHIAN GOLD
LAUDER MARIGOLD
PERTHSHIRE RED
LANARK BRINDLE
LEITH IRON
---
ReadyBrick® Common Brick
CEMEX ReadyBrick® common brick or coursing brick are available in both dense and lightweight varieties.
COMMON BRICK - FEATURES & BENEFITS
Have versatility to be used in a wide variety of internal and external applications independently or in conjunction with our ReadyBlock® range
Allows use above and below ground, where strength and durability are prime considerations
Have excellent sound insulation and air permeability properties
Provide an excellent key for secondary finishes and fixings
Currently Available in two variations:
2000 SOLID DENSE READYBRICK® STANDARD FINISH
1400 SOLID MEDIUM DENSE READYBRICK® STANDARD FINISH
Dense Medium Dense Solid Coursing Bricks
Designed to be used for all types of construction above and below the ground in conjunction with dense and medium dense aggregate blocks. Reduces the need for cutting blocks onsite, in return reducing waste, cost and time. » See More