neogem Helps Cowdray Park Get Gold Cup Ready with High Quality Sports Sand
neogem has provided the world-renowned Cowdray Park Polo Club with 3,000 tonnes of sports sand, in preparation for this year's Gold Cup competition.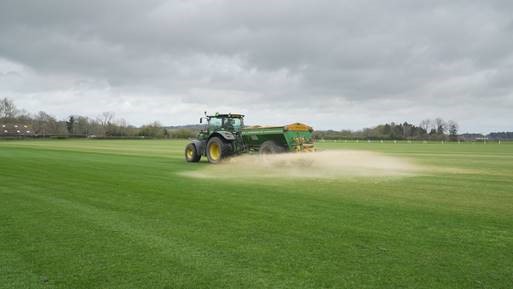 ---
The club was looking for a sand which could increase the grip for horses while on the pitch, enhancing performance, and offer better drainage. The sand needed to allow horses to run safely and comfortably during damp conditions, helping their hooves to grip to the grass. It was also important for the sand to feature a good particle size distribution and bury itself into the grass.

In addition to the 3,000 tonnes initially provided, a further 2,500 tonnes will be provided to the club before the end of the year, with the same total quantity required annually.

neogem's sports sand pro was identified as the best sand to meet the club's needs. This high-quality sand has been certified, tested and approved by the Sports Turf Research Institute (STRI). It is washed prior to delivery to ensure a fine, soft finish.

Tracey Taylor, neogem sales representative, commented: "It was a real privilege to work with Cowdray Park Polo Club as they prepare for this year's Gold Cup. neogem's sport sand is the ideal product for such a world-class polo pitch; helping the horses to perform and the pitch to retain its reputation as an incomparable setting for a premier polo tournament.

"One of the key challenges for this project is to work around the British weather; sand can only be spread when it is dry and not too windy. This meant a close working relationship was needed with the club to ensure we could supply at short notice and can also continue to do so throughout the season as repairs and top-ups to the pitches are needed."

Julian Russell Hayes, Grounds Manager at Cowdray Park Polo Club, added: "We need our polo pitch to be at its best for the Gold Cup and choosing the right sports sand is a key part of this. We are very happy with the neogem product and the service provided during purchase, delivery and installation."

The premium aggregates available from neogem are now available in selected countries across Europe, and are fast building a reputation as luxury, high performance products that can be relied upon, particularly in the sports sector. For instance, at last year's UCI Trials World Cup in Berlin, neogem provided materials for the construction of the course.

For more information about neogem's sports products, please visit: www.cemex.co.uk/neogem-premium-aggregates
– ends –

Notes to Editors:
About neogem:
The neogem brand is a range of high-performance aggregate solutions by CEMEX. Unlocking the advanced technology hidden in regular mineral materials, neogem can offer innovative aggregate solutions to meet specific customer needs.
About CEMEX:
• CEMEX is a global manufacturer of building materials and the biggest Mexican investor in the UK, with 3,000 people employed across 450 sites nationwide. In this country, we are a leading provider of aggregates, cement, ready-mixed concrete and rail sleepers with annual sales of around £1 billion.
• More news stories can be found on Twitter @CEMEX_UK and on our website www.cemex.co.uk
For further CEMEX or neogem details please contact Sarah Murphy; email: sarah.murphy@cemex.com or call 07557 319972