CEMEX partners with CARBS – concrete kinetics
CEMEX is continuously in pursuit of innovative solutions in materials design and its application to construction., CARBS – Concrete Kinetics is an initiative conceptualised by CEMEX, Matter Design and Aedes to demonstrate and reflect on a multifaceted approach in construction innovation.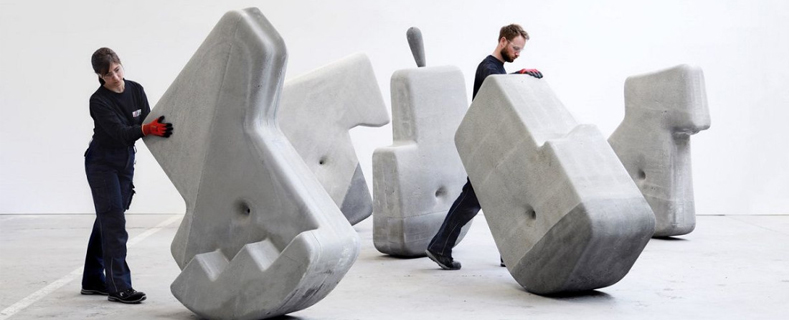 ---
Concrete Kinetics is a choreographed demonstration of megalithic elements made from concrete and weighs between 400 and 1800 kg.
In February, a series of online events will be organized as a digital forum about the potential of physically engaging with mass, material and movement.
During the online meetings there will be a presentation with introductions and demonstrations from Matter Design and CEMEX with an opportunity to discuss the megalithic process of construction aims to change the energy input from fossil fuels to carbohydrates (CARBS).
The events will be divided into phases: Scatter, Assemble and Split. Each phase will present during demonstration and discussion the topics on sustainability, creative research, innovation.
This experimental choreography explores the physical potential of human interaction with innovative concrete technology and ancient transportation methods of megalithic structures. It was designed and developed by the Boston based firm Matter Design and CEMEX Global Research and Design (R&D).
The partnership with AEDES and Matter Design underlines our efforts to develop sustainable and innovative solutions – said Davide Zampini - CEMEX Head of Global R&D and who is a speaker at all three events.
We encourage you to participate in this unique events:
Phase I
Scatter
Date: Thursday, 4 February 2021, 4.30pm (CET)
View recording here: https://www.facebook.com/AedesArchitectureForum/videos/504154160982567
Phase II
Assemble
Date: Friday, 12 February 2021, 6.pm (CET)
Live-stream: https://www.facebook.com/AedesArchitectureForum
Phase III
Split
Date: Friday, 26 February 2021, 6.pm (CET)
Live-stream: https://www.facebook.com/AedesArchitectureForum
Ends
About CEMEX
CEMEX is a global building materials company that provides high-quality products and reliable services. CEMEX has a rich history of improving the well-being of those it serves through innovative building solutions, efficiency advancements, and efforts to promote a sustainable future.
About Aedes
Since its founding 40 years ago, the Aedes Architecture Forum continues to present young and innovative spatial practices through exhibitions, publications, research and debates. With this notion, Aedes moves beyond traditional architectural topics constantly emphasising the importance of transdisciplinary discourse. The collaborative partnership between Cemex Global R&D and Matter Design highlights this dialogue and simultaneously opens new doors for ideas to be explored.

About Matter Design
Matter Design is a synthesis of art and science. It is simultaneously a design practice and a research lab. Led by partners, Brandon Clifford, Johanna Lobdell, and Wes McGee, the team collaborates with industrial partners, composers, historians, visual artists, and other creative minds. The lab critically evaluates false assumptions to provide new directions for the digital era. It specializes in identifying ancient knowledge that holds resonance with topics of today. Matter Design publishes its top-tier architectural research and is also recognized as an influential design practice with awards such as the Architectural League Prize for Young Architects + Designers, the Design Biennial Boston award, AZ awards, AIA Small Projects Award, BSA Honor Award, and others. The work is exhibited world-wide and garners media attention. Matter Design is dedicated to imagining better futures by physicalizing digital potentials.
For CEMEX media enquiries, contact Sarah Murphy: sarah.murphy@cemex.com or call 07557 319972