CEMEX launches educational program to raise awareness of the Circular Economy
A new educational program for UK schoolchildren has been launched by global building materials supplier CEMEX, aiming to help children better understand and contribute more to sustainable development, through the transition to the Circular Economy and by promoting a responsible and sustainable lifestyle.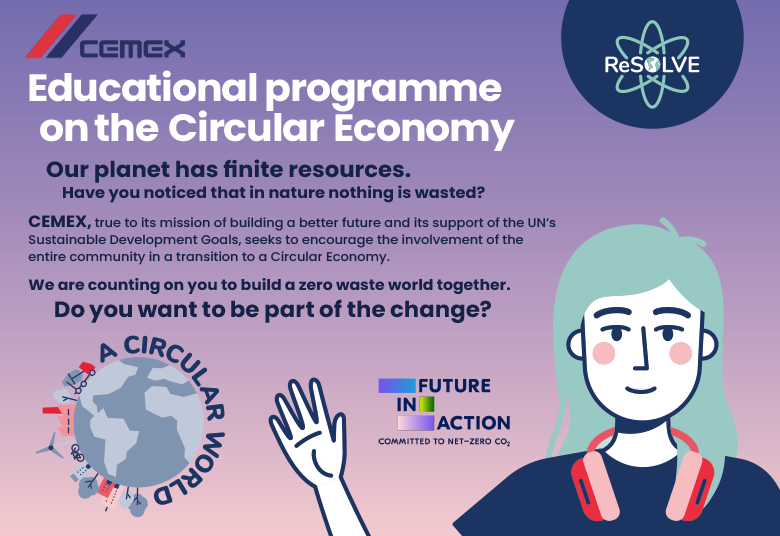 ---
'A Circular World' is free for all to access and uses a multitude of resources to practically understand and address the major sustainability-related challenges facing our society. It is the latest development announced by CEMEX as part of its global climate action strategy; Future in Action.
Hosted online at https://www.cemex.co.uk/cemex-and-the-circular-economy, the program features a fictional team of young people across the globe who need the help of participants to solve different environmental problems. A Circular World is now live for children in academic years 5 and 6, with content for those in Early Years and Secondary Education due to follow soon.
The program includes activities that can be completed in the classroom and is designed to capture the attention of students through Escape Box activities and Breakout games, which provide an excellent mix between content and entertainment. 'A Circular World' includes both individual and collective challenges, which can be used as a tool for motivation and for the development of knowledge and skills.
Chiedza Mupfumira, Social Impact Specialist for CEMEX UK, commented: "CEMEX sees the mitigation of climate change as one of the world's biggest challenges, with coordinated action vital if we are to protect our planet for future generations. As part of its dedicated climate action strategy, Future in Action, CEMEX is working closely with communities across the globe to help people understand the role they can play, while also enhancing its operations to meet ambitious sustainability targets.
"CEMEX's A Circular World education program is intended for the entire educational community. It is developed for students, through classroom activities, and but is also a valuable resource for teachers, including training tools that facilitate their educational work and promote creative learning methodologies. The program seeks to align with the contents and competencies of the school curriculum in a way that is a rigorous and useful complement to the teaching activity of teachers."
A Circular World can be completed in English, Spanish or Catalan and the activities for the classroom follow a methodological proposal that favours the learning process of people: motivation, research and introduction of new knowledge, reflection and critical thinking and, finally, action and communication.
To access the program, visit: https://www.cemex.co.uk/cemex-and-the-circular-economy
-Ends-
Notes to Editors:
About CEMEX:
CEMEX announced its Climate Action strategy; 'Future in Action – Committed to Net Zero CO2' in February 2020, and as part of this, by 2030 it plans:
To be below 475kg of CO2 per ton of cementitious material, equivalent to a 40% reduction*

To reduce the carbon content per cubic meter of concrete to 165kg, equivalent to a 35% reduction*

To reach 55% in clean energy consumption
* According to our 1990 baseline
CEMEX is a global construction materials company that is building a better future through sustainable products and solutions. CEMEX is committed to achieving carbon neutrality through relentless innovation and industry-leading research and development. CEMEX is at the forefront of the circular economy in the construction value chain and is pioneering ways to increase the use of waste and residues as alternative raw materials and fuels in its operations with the use of new technologies.
CEMEX offers cement, ready-mix concrete, aggregates, and urbanization solutions in growing markets around the world, powered by a multinational workforce focused on providing a superior customer experience, enabled by digital technologies. For more information please visit: www.cemex.com
CEMEX R&D, Innovation and Business Development projects are part of the global R&D collaboration network, headed by CEMEX Research Centers, based in Switzerland
For media enquiries please contact Sarah Murphy; email: sarah.murphy@cemex.com
m. 07557 319972