CEMEX Go helps redevelop Leicester
In September 2019 we started working with 4D Structures Ltd on part of Leicester's Waterside Regeneration Project.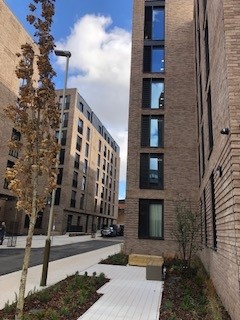 ---
Essentially the area has been cleared except for a few listed buildings with new housing, apartments and office space replacing them. A hidden gem located to the North-West of the city centre, it has seen investment in upgraded towpaths and new moorings at Friars Mill which are also contributing to an enhanced and more accessible River Soar and Grand Union Canal side environment.
4D Structures were appointed by the main contractor, Watkin Jones Plc as their groundworks / concrete frame sub-contractor in September 2019
The site was compact and split into two separate buildings, a brand-new student home, The Tannery, which offers students modern en-suite rooms in shared apartments and The Arches, with 184 brand new ready-to-rent private apartments.
We supplied almost 14km3 of concrete from our Humberstone Lane plant, mainly C40 and C50 20 IIB-V+SR S4 Pump + splas for the foundations and floor / column structures, with Cemex Permatite 40 waterproof concrete for the basement and lift pits. Starting in September 2019 we completed the main pours by August the following year after a brief stoppage for Covid.
An excellent project which in the main went exceptionally well. A tight site with restrictive access via a one-way system, occupied business premises and apartment blocks were close by.
4D placed their orders via our Cemex Go app. This enabled them to place up to two weeks-worth of pours via the app thus giving us time to organise both transport and materials prioritising critical pours.