CEMEX AND PARTNERS INAUGURATE THE CARBON NEUTRAL ALLIANCE AT RÜDERSDORF CEMENT PLANT
CEMEX, S.A.B. de C.V. ("CEMEX") and its partners announced today the inauguration of the Carbon Neutral Alliance, which aims to accelerate the development of innovative technologies designed to transform CEMEX's Rüdersdorf plant into the first carbon-neutral cement facility by 2030.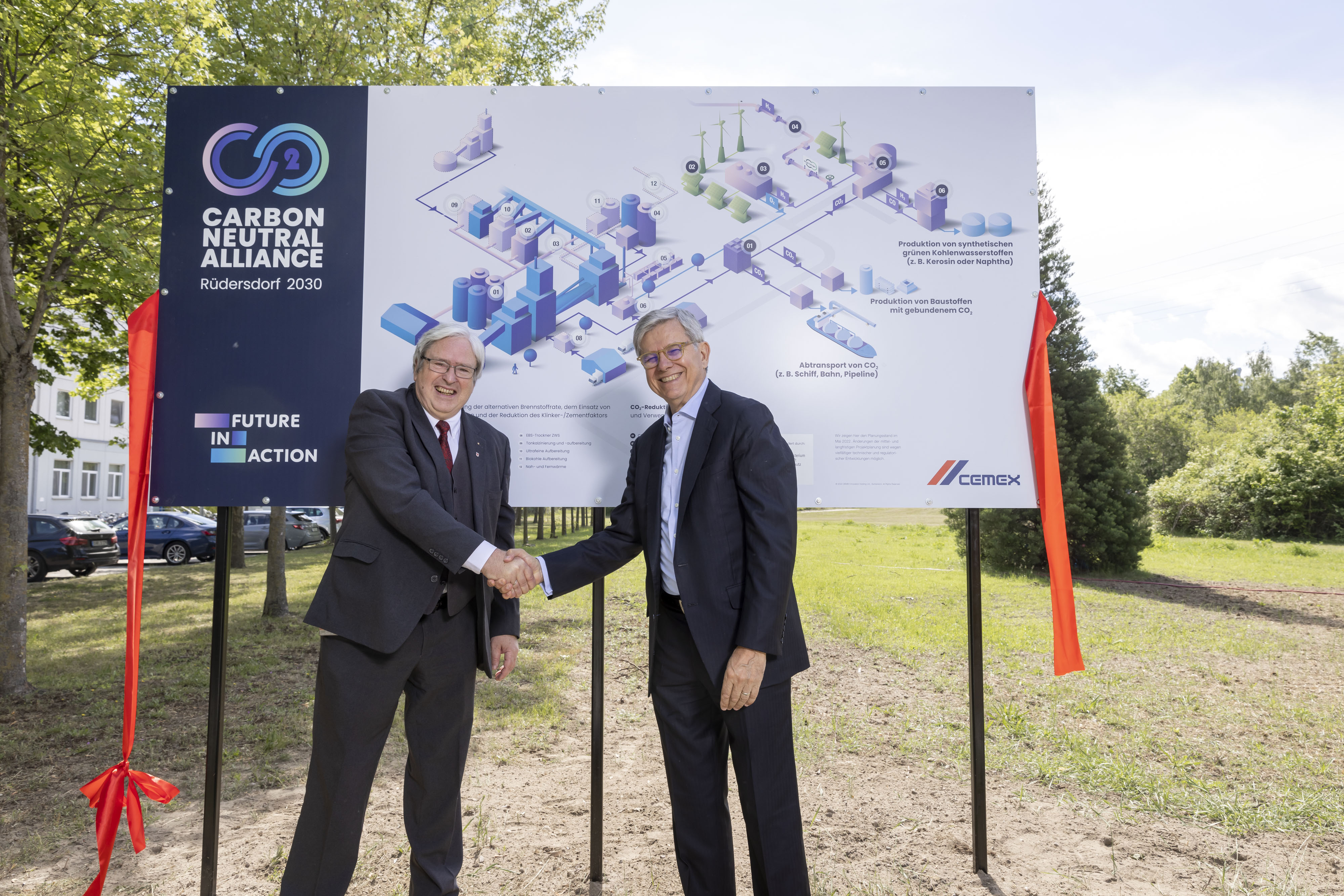 ---
The Carbon Neutral Alliance comprises a network of over 20 private and public entities, dedicated to climate innovation. Among the technologies being introduced at Rüdersdorf is a waste heat recovery project scheduled for the summer of 2022, as well as the development of renewable energy generation. Additionally, and as a result of CEMEX's cooperation with Sasol and ENERTRAG, the company expects to produce sustainable aviation fuel onsite.
Prof. Jörg Steinbach, Brandenburg's Minister of the Economy; Fernando A. Gonzalez, CEO of CEMEX; Marius Brand, Executive Vice President of Sasol: Sasol 2.0 Transformation; Dr. Helge Sachs, Senior Vice President of Sasol ecoFT; and Francisco Quiroga, the Mexican Ambassador in Germany, met to inaugurate the consortium at the Rüdersdorf cement plant on May 31st. At the event, CEMEX reaffirmed its commitment to climate action and its ambition of achieving carbon neutrality by 2050. The Rüdersdorf Alliance is an important step in scaling the necessary technology to reach this goal.
"At the Rüdersdorf cement plant, we are introducing breakthrough decarbonization technologies that will bring the world closer to climate neutrality. Each step towards this goal is made easier through cooperation with our business partners," said Fernando A. González, CEO of CEMEX. "We are delighted to be partnering with an alliance of world class industrial experts and with governmental authorities who are as committed as we are to decarbonization."
The experience and knowledge gained from the Carbon Neutral Alliance will be an important foundation for CEMEX as it decarbonizes the cement production process at its plants around the world.
The activities of the Carbon Neutral Alliance are part of CEMEX's climate action program: Future in Action. In 2020, the company announced its decarbonization strategy, setting its own global target to reduce carbon emissions by 40% by 2030* . This target is expected to be achieved in Europe in 2022. By 2030, CEMEX intends to reduce emissions at its European sites by 55%, in line with 2 European Union's new strategy to reduce CO2 emissions. CEMEX has also announced its goal to achieve net-zero carbon emissions in concrete by 2050.
CEMEX (NYSE: CX) is a global construction materials company that is building a better future through sustainable products and solutions. CEMEX is committed to achieving carbon neutrality through relentless innovation and industry-leading research and development. CEMEX is at the forefront of the circular economy in the construction value chain and is pioneering ways to increase the use of waste and residues as alternative raw materials and fuels in its operations with the use of new technologies. CEMEX offers cement, ready-mix concrete, aggregates, and urbanization solutions in growing markets around the world, powered by a multinational workforce focused on providing a superior customer experience, enabled by digital technologies. For more information, please visit: www.cemex.com * Compared to 1990 emission levels.
Ends
About CEMEX:
CEMEX announced its Climate Action strategy; 'Future in Action – Committed to Net Zero CO2' in February 2020, and as part of this, by 2030 it plans:
• To be below 475kg of CO2 per ton of cementitious material, equivalent to a 40% reduction*
• To reduce the carbon content per cubic meter of concrete to 165kg, equivalent to a 35% reduction*
• To reach 55% in clean energy consumption
* According to our 1990 baseline
CEMEX is a global construction materials company that is building a better future through sustainable products and solutions. CEMEX is committed to achieving carbon neutrality through relentless innovation and industry-leading research and development. CEMEX is at the forefront of the circular economy in the construction value chain and is pioneering ways to increase the use of waste and residues as alternative raw materials and fuels in its operations with the use of new technologies.
CEMEX offers cement, ready-mix concrete, aggregates, and urbanization solutions in growing markets around the world, powered by a multinational workforce focused on providing a superior customer experience, enabled by digital technologies. For more information please visit: www.cemex.com
For media enquiries please contact Sarah Murphy; email: sarah.murphy@cemex.com
m. 07557 319972