Aggregates Midlands goes from Strength to Strength
After a fantastic 2021 for the Aggregates business in the Midlands market, in which new records were set for profitability across the area, the Aggregates team in the Midlands continue to build on that success.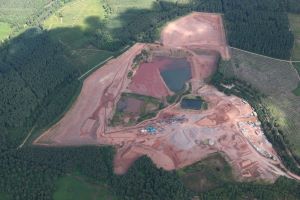 ---
Despite numerous challenges across a complex market consisting of nine quarries, our new railhead at Small Heath in Birmingham, and our landfill and recycling operations, the team have delivered again with 2022 seeing new records set once more, both in terms of production, sales and profitability.
Phil Constable, Commercial Manager for Aggregates in the North of the UK, commented: "This has been a fantastic effort by the whole team across the Midlands. By being so clearly focused on the Aggregates business, and working safely and closely together with Operations, Commercial and Supply Chain, we have been able to deliver a fantastic set of results once more. The ability to keep both our internal and external customers supplied in such a challenging environment is truly a testament to all the teams across the Aggregates Midlands business."
Going forward, many more challenges lie ahead for the Aggregates Midlands teams, however there is no doubt the business is totally focused to address these. Well done to all!