A Different Kind Of Step Challenge For Somercotes Rail Solutions Teams
Some of our Rail Solutions team based in Somercotes carried out another lend-a-hand day replacing 21 wooden sleepers at a local Nature Reserve, which has achieved Green Flag status.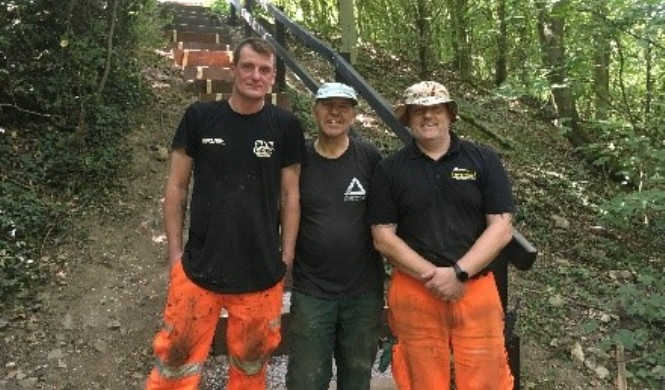 ---
Terry Clair, Operations Manager, commented: "We planned to help with the replacement of 21 rotting timber sleepers placed as steps used by members of the public that walked through and around the Pennytown Ponds Reserve.
"For the last five years we have always made the effort to work with the Local Council and Groundwork to maintain areas of Pennytown Ponds which is an area widely used by our local communities. At the start of the spring we did a review of what areas our support would better benefit. I noticed that the wooden sleepers that allow members of the public safe access to other levels of the Nature Reserve were clearly becoming unsafe through wood deterioration; the hand rail had also become loose and was ready to break.
"I offered to have myself and a team replace all the sleepers that were needed and repair the hand rail to ensure many more years of use. Sometimes the best plans don't always work out - we'd planned to replace 21 sleepers but following the long period of warm weather the ground was so hard it slowed us down a little.
"We managed to replace 13 sleepers on the day and we concreted-in posts to stabilise the hand rail and repainted it, offering it a few more years of use. I am proud of the work we do at Pennytown Ponds and the support we give the local community is amazing.
"Gary, our friend from the local charity, Groundwork, was working along us throughout the day and was over the moon with the results. The team here at Somercotes worked very hard so my thanks to them for making this happen."
A month after our review the Reserve was visited by the Green Flag judges and was deemed of sufficient standard to retain the Green Flag status which has been held for a number of years.
The judges highlighted that the wooden steps needed replacing and when told that this work was already scheduled with the help of CEMEX they were impressed that the work was already planned and secondly a local company was involved in the important maintenance work on a local Nature Reserve.